The Red Desert Complex Roundup, Largest in History is Finally Over – but What About the Horses?
November 19, 2020
Incentive Program Spurs Unusual Turnout at Rock Springs Wild Horse Adoption
February 24, 2021
Picasso is one of my very favorite wild horses, and has been since I first met him on a fall day at the last helicopter roundup in Sand Wash Basin in 2008. It was a horrible roundup, with horses slamming into panels and 11 horses dying before it was over.
While walking around the corrals I spotted Picasso in a pen with other stallions. His ears were back and he was the most beautiful and angriest wild horse I had every seen. Clearly he had been through this before and was very unhappy about losing his family and being stuffed in this small pen with other stallions. I heard from the BLM that he had been aged at 22 years old – they put the horses into a squeeze chute and examine their teeth to determine age. Picasso was one of the very few lucky wild horses that were released back into his home in the Sand Wash Basin Herd Management Area.
I finally went back to Sand Wash Basin late in the summer of 2011. To my delight, one of the first families I encountered was Picasso's. He had a beautiful pinto mare named Mingo and a buckskin mare named Monet. Mingo had a little sorrel foal. They had been napping, and then they headed to the waterhole for a drink. after they finished, they headed directly toward me with Picasso in the lead. I was completely captivated by Picasso, and that has never ended.
I heard later in the year that because Monet was a mare from Sombrero ranch, whose property adjoined Sand Wash Basin. When the wranglers from Sombrero Ranch came to capture 5 horses that had gone through downed fences they drove Picasso's family for miles across the Basin before they were able to capture Monet and take her back to the ranch.
Next spring when I encountered Picasso's family, Mingo had a new foal, a filly named Mimi. The three were very close and devoted to each other. I spent some time with them at dawn one morning with the beautiful early light illuminating Picasso's eyes.
At the big Lake Pond waterhole, many families from Sand Wash would congregate for hours at a time, not just to drink water but to socialize. Picasso loved to go to other stallions or bachelor stallions to posture and play, and I loved photographing him as he ran back to his family.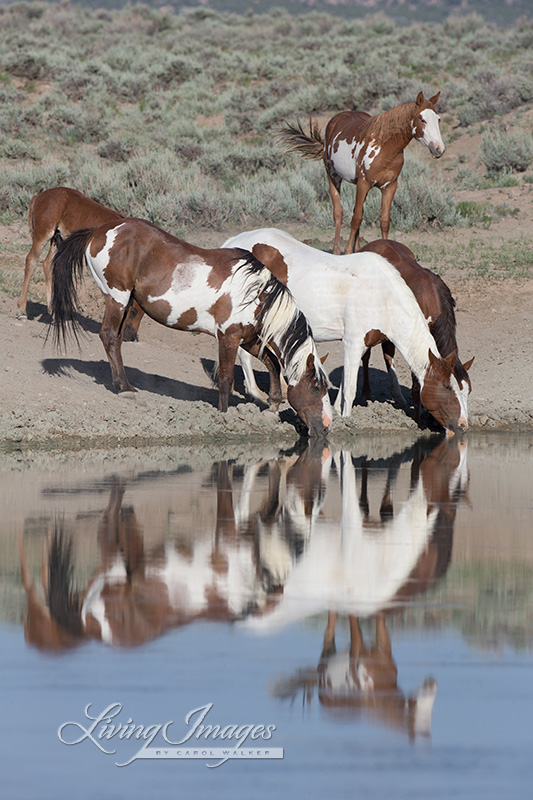 Picasso won a young two year old pinto filly named Flek who had the loudest markings I have ever seen on a horse. Picasso was attentive to Flek but the rest of the family took a little while to warm up to her. I enjoyed watching them together when they came to the waterhole.
But Picasso lost his family later that year, and struck out on his own. He was very elusive, and hard to find. I was really lucky to see him at all, and he looked good and seemed content on his own.
But surprisingly in 2018 he won a young mare, Spirit Dancer, a second spring for Picasso! But the older stallion Voodoo who had lost his family as well dogged him mercilessly, fighting, following, and more fighting, which was wearing especially on an older stallion. Only a week later he finally lost his last mare and went on alone once more.
Now it has been a year since anyone has seen Picasso and the Grand Old Man of the Basin is believed to have gone to his final rest, in his home in Sand Wash Basin. This noble, proud, colorful and gentle stallion who lived over 30 years has been able to live his entire life wild and free – he is a symbol of the very best of our wild horses in America and I feel privileged and thankful to have been able to have met him and followed his story in the last decade of his life. His legacy lives on in his many offspring, and in the hearts of those who have loved him over the years. He will always be remembered.
You can find many images of Picasso on my website here: Living Images by Carol Walker
And in my Wild Hoofbeats Etsy shop here: WildHoofbeats