Action Alert! Please Comment Today on BLM's Plans to Decimate the Onaqui Wild Horse Herd
July 9, 2018
Action Alert: House Passes 2019 Appropriations Bill that Calls for Sterilized Wild Horse and Burro Herds
July 20, 2018
Annual Tour of Wild Horses at BLM's Axtell Private Feedlot with No Shade
Report of the Axtell Wild Horse and Burro  Feedlot Annual Tour  By Carol J. Walker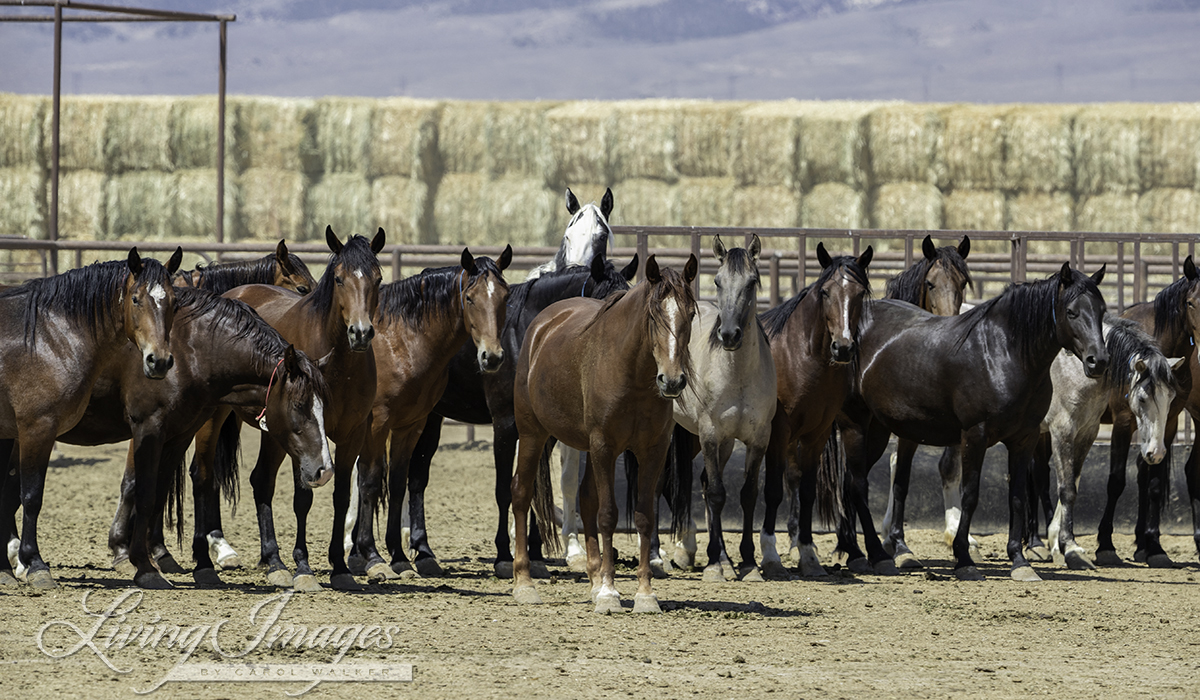 On Thursday July 12 I was able to tour the Axtell, Utah BLM Holding Facility and see some of the wild horses that had been rounded up in September and October of 2017. I had repeatedly requesting access to view and to photograph the horses since November, 2017. I was told no, this is a private facility. Because it is private it does not mean that the BLM cannot allow people in – it means they do not have to let people in. I was told they do not have the staff time available to allow people to track certain horses they might be interested in. I offered to help the wild horses get homes, because I had done that after the 2014 roundup very successfully. Again and again I was told no or simply ignored. Then finally they scheduled their annual tour which is open to the public. There were over 1200 wild horses from Wyoming shipped to this barren feedlot that has no shade, no shelter from the elements. Now, there are only 800 horses left, and of that number, approximately 500 are from the roundup last fall. What happened to these horses?
Here is what I was told:
Those horses over 6 years old were shipped to "off-range pastures" or "off-range corrals." The "adoptable" horses were shipped all over the country to adoptions or will be shipped to adoptions. They are treating the horses over 5 as "unadoptable" with no opportunity to be adopted when the age for being able to be sold "without limitation" is over 10. Once these horses are sent to Long Term Holding, or "Off-Range Pastures" the BLM will not allow anyone to adopt or buy a specific horse. You can buy them by the truckload, however.
Of the horses that are still there, I was told that two loads of 35 horses each will be shipped to Ewing, Illinois for an adoption event. There were young horses in a pen, and I was told that they were going to youth who were going to train them for a BLM event "Impact of the Horse" and at that event they would be available for adoption.
As I continued to walk from pen to pen in the hottest part of the 90 degree day, I noticed a group of older geldings who no longer had their numbered neck collars on, making it more difficult to identify the horses. I was told they were going to go to a Long Term Holding Facility, and it was as though they were "already shipped." But they were still there. Another pen full of  older geldings, again with their neck tags removed. When I in exasperation asked were there any horses that were not "already shipped" I was told that the older geldings in pen 17 had not been designated a destination facility yet. Also the mares with foals will not be available until the foals are weaned at 6 months old. Even the mares and foals had no shade or shelter in their pens.
One thing I noticed immediately upon arriving was that there was alfalfa being fed to the horses. I was told that the young horses were getting straight alfalfa hay and the older horses were receiving both alfalfa and oat hay. Let me very clear – I am not a veterinarian nor am I an equine nutritionist. However, I have been a horse owner since age 12, and I currently have two mustangs of my own. Alfalfa would be the very last thing I would feed my horses. In my opinion it is far too rich for mustangs. I saw many overweight and very overweight horses at Axtell, and I do not ever remember seeing overweight horses at any holding facility I have visited before, such as at Canon City, Rock Springs, and more recently, Bruneau, Idaho. Being that overweight can be dangerous to a horse's health. Look at the images and see for yourself. There is a body score system for horses called the Henneke which scores the body fat on a horse from 1-9. These horses did not look like this when they were rounded up. Here is the chart: https://www.wildhoofbeats.com/wp-content/uploads/2018/07/body-condition-score-chart.pdf
Here are the images of the wild horses in Axtell from the tour:
http://wildhorsefreedomfederation.org/18AxtellTourCW/
Please feel free to use the images for reference. I got as many tags visible in the photos as I could. The first images are from the pen of mares that are supposed to be going to Illinois, number 4 – 42. Next the mares and foals, from 43 – 70, then the older geldings, from 71-94, then mares from 95-143, then a mix of mares from Wyoming and other places plus foals in a very large corral from 144-166, then pen 17, older geldings from 167-196, then the young horses are from 197-2016, then last the older geldings in a larger pen from 207-226.
I did ask at the very beginning of the tour if people were interested in adopting the horses at the facility would they be able to do that? Initially Gus Warr and Lisa Reid told me yes. So I am going to post the images I took at the tour, and if you are interested in adopting any of these horses, I encourage you to act quickly, and to contact Gus Warr and or Lisa Reid in order to do that. I cannot stress enough that all of these horses are at risk of being sold to slaughter, sent overseas, or being killed while Congress is still debating the 2019 Appropriations Bill.
Lisa Reid, Public Information Specialist, Utah: lreid@blm.gov     W 435-743-3128
cell:  435. 979.2838
Gus Warr, Wild Horse and Burro Lead, Utah: 801-539-4057,   gwarr@blm.gov
BE SURE TO LISTEN TO WILD HORSE & BURRO RADIO on WED., JULY 18th. CAROL IS DOING A RADIO SHOW ABOUT AXTELL (and more). YOU CAN LISTEN TO THE RADIO SHOW HERE: http://wildhorsefreedomfederation.org/news-alerts/carol-walker-on-blms-wild-horse-holding-facility-feedlot-in-axtell-utah-and-more-wild-horse-burro-radio-on-wed-7-18-18/
Related Posts:
The Bureau of Land Management Blocks Public Observation and Adoption of Wild Horses Rounded Up in Wyoming's Checkerboard
Visiting the Checkerboard Mares and Foals at BLM's Bleak Private Feedlot in Bruneau, Idaho